In 1870, Enoch Piercel Bowen, Sr., a 13-year-old, traveled 50 miles with his family from Lowndes County into an area that is now Tift County. George Washington Bowen, his father, purchased a lot of land where Brookfield is now located. E. P. Bowen, at first, worked in the general store his father had started in Brookfield and then, with a loan from a friend, opened a business of his own.
Eighteen years later, E. P. Bowen, Sr. found out the new Georgia Southern and Florida Railroad would cross the Brunswick and Western Rail Line at the sawmill village of Tifton. Moving to Tifton, E.P. served as the Express and Railroad Freight Office agent.
He also purchased the first general store in Tifton from W. A. Pace. In connection with this enterprise, he bought an order of caskets from the Gate City Casket Company of Atlanta in 1888 and kept them in a small warehouse behind what is now Brumby Crossing.
In 1895, E. P. Bowen, Sr. had become a licensed embalmer. The funeral home business that grew out of Bowen's storage of the caskets moved to Tifton's first brick store building in 1900 at the southeast corner of Love Avenue and Second Street. The undertaking department was in the basement, while many outstanding performances were presented at an opera house on another floor.
When this building burned in the first Great Fire of 1904, Bowen relocated his business to 318 Main Street (next to the present Tift Theatre). The undertaking department was on the second floor. In 1913, E. P. Bowen, Sr. formed a partnership with his eldest son, Lennon E. Bowen, under the name of E. P. Bowen & Son.
Separating from the store in 1918, the undertaking department operated as a funeral home for the first time. In 1920, E. P. Bowen & Son moved to the McLeod Building at the northwest corner of Love Avenue at Second Street.
Enoch P. Bowen, Jr. purchased the interest of his brother, Lennon, in 1923. In 1929, they moved into their newly built facility at 218 Love Avenue, which was next door to the funeral home. This building was demolished in 1989.
On April 1, 1929, W. Bruce Donaldson, Jr. became funeral director and embalmer. He was later made a partner in the firm and the business began in 1939 to operate under the new name of Bowen Funeral Home.
After the death of founder E. P. Bowen, Sr., who served the Tifton community for 55 years, the firm's name was changed in 1943 to Bowen-Donaldson Home for Funerals.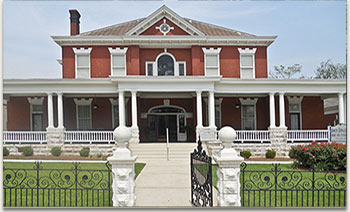 Then in 1948, the 60th anniversary of Bowen-Donaldson, the beautiful old Buck residence on Love Avenue was restored to its original splendor and became the new Home for Funerals.
The Buck House, built in 1905, had an interesting history of its own. When the original owners were all killed in a series of tragic accidents, the property passed to the Mellon family. Eventually, the Buck House became a dilapidated apartment building. Bowen-Donaldson's building improvement, however, made the quality of the house's structure and surroundings better than ever.
William I. Bowen, Sr. became a partner with W. Bruce Donaldson, Jr. upon the death of his father, E. P. Bowen, Jr. in 1957.
In 1963, on the 75th anniversary, a spacious chapel was added, adjoining the Buck House,
and dedicated in memory of Enoch Bowen and his son, Enoch Bowen, Jr. Then in 1968, a lot was purchased across the street and a large parking area was added.
In February 1988, W. Bruce Donaldson, Jr., after 59 years of service to the firm and Tift area, passed away at age 80. "He has been sorely missed by all who knew and worked with him, " Bill Bowen said.
Upon Donaldson's death, his interest in the funeral home passed to his son, W. Bruce Donaldson III, who assumed the position of executive vice president and general manager. W.I. "Bill" Bowen Sr., the third-generation member of the business, served as president of Bowen-Donaldson Home for Funerals until his death in 2011. W. Bruce Donaldson III and William Bowen, Jr. currently own and manage the business. William, as the great-grandson of the founder Enoch Bowen, Sr., is a fourth-generation member.